Stitching
(Click on thumbnail to enlarge)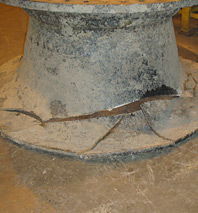 Is a cold mechanical repair of cast iron and dissimilar metal without the use of heating or welding. Because there is no heat involved there is no physical change to the casting properties or distortion resulting in no added stress. Instead stitching usually relieves high stress concentration.
Helps distribute torsional loads away from the repair and spreads tensile stress.
Permanent/presser tight repair that restores casting equal to or superior to the original strength.
Maintain Dimensional alignment, thereby eliminating or reducing the cost of machining to a minimum if any.
Repair can be done on-site, often without the need of disassembly and reassembly reducing additional down time/costs.
Crack Eliminator utilizes various manufactures patented technology for stitching, insuring the correct system is used on your repair.
Stitching Capabilities:
General Capabilities

Rebuild
Redesign

Repair
On-site/In-house
Primary Capabilities

Disassembly
Reassembly
Material (Metals)

Cast Iron
Ductile Irons
Steel Castings

Aluminum Castings
(non ferrous typically)
Work Space Capacity

50,000 square ft.
Weight Capacity/Lifting Capacity

40000 lbs.
Tolerance (+/-)

±.0005"
Additional services

Painting
Polishing
Cleaning
Typical Lead Time

2 Weeks
24 Hour Emergency service
Additional Information
Industry Focus

Aerospace
Agricultural
Automotive
Marine
Machine Shop
Construction
Power Plants
Steel Mills

Paper Mills
Printing Mills
Foundries
Mining
Consumer
Petrochemical
Recycling
Intended Application

Antique Parts
Turbines
Pumps
Impellers
Compressors
Bull Gears
Cylinder heads

Motors
Engine Blocks
Gear Boxes
Boat Motors
Machine Castings
Diaphragms
File Formats

JPG or JPEG
Joint Photographic Experts Group

PDF
Portable Document Format